2022 Guide to Floating the Lower American River in Sacramento
Guide to a Lazy Float on the American River in Sacramento
Floating the Lower American River, the "Sunrise Float", is a venerable right of passage for anyone living in the Sacramento Area. This Summer time diversion is perhaps one of the most popular diversions with the river being chocked full of people during the hot Sacramento weekends. Making sure you are prepared can ensure that your float is safe and fun.
Disclaimer: Rivers are dangerous environments best left to the professionals. This article does not impart the knowledge, skills, and experience necessary to safely run a river and simply is informational in nature. Users of this information are soley responsible for any actions arising out of its use.
We always recommend you use a professional outfitter when planning your time on the river. Not only will you be able to experience larger Class III-V whitewater, rather then the class II- on this run, but you ensure all the details are handled allowing you to ensure your have an amazingly fun and also safe time! We recommend our Chili Bar or Gorge run for first timers. If your feeling more adventurous, check out out Class IV Middle Fork Trips!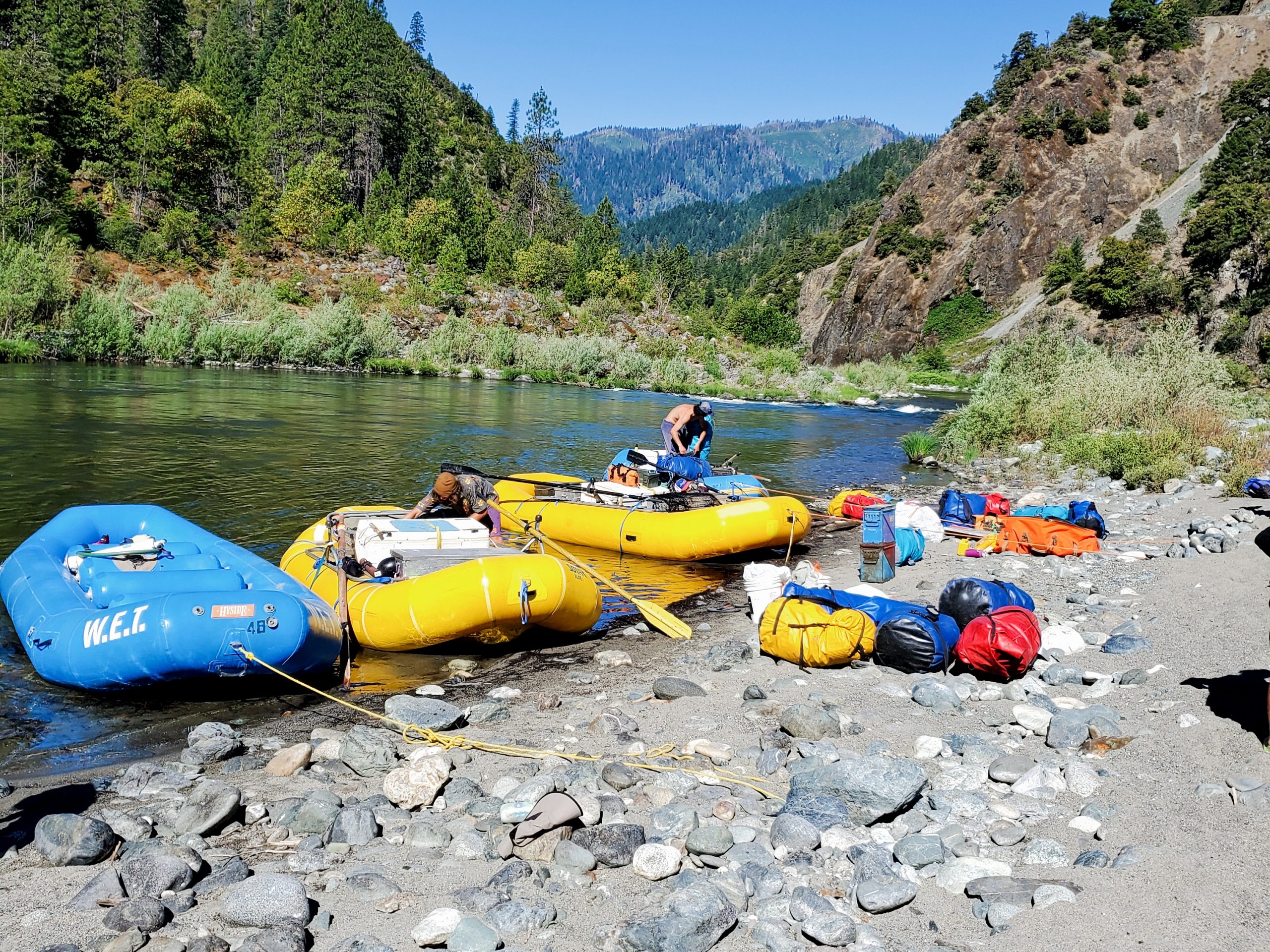 The Lower Klamath provides an ideal multi-day whitewater rafting experience for families and first timers. It is the heart of the 2nd largest river system in California and one of the first to rivers in  California to receive the Federal "Wild & Scenic" designation. Experience 50 miles of uninterrupted Wild and Scenic River on this 3-5 day expedition.
Learn More
Starting and ending points
River: Mostly Class I with two Class II rapids depending on the level of the river.  Flows above 5000cfs can be extremely dangerous and not suited to a float experience.
Rapids: The San Juan Rapids rank as the highest on this float at Class II or II+ depending on conditions.
Stopping off Spots: Giligan's Island just upstream of Hagan Park is a popular spot with the party crowd.
Personal Floatation Devices (LifeJacket):
Be sure to have a personal flotation device for everyone in your party, strong swimmer or not! Personal Flotation devices are required for anyone below the age of 13 swimming, boating, wading etc by law. Many deaths happen on this stretch of river every year due to people being unprepared and intoxicated. Personal flotation devices are available at many of the popular put-in spots on the river, but during popular times they may not be available. Plan ahead and save a life. It could be yours!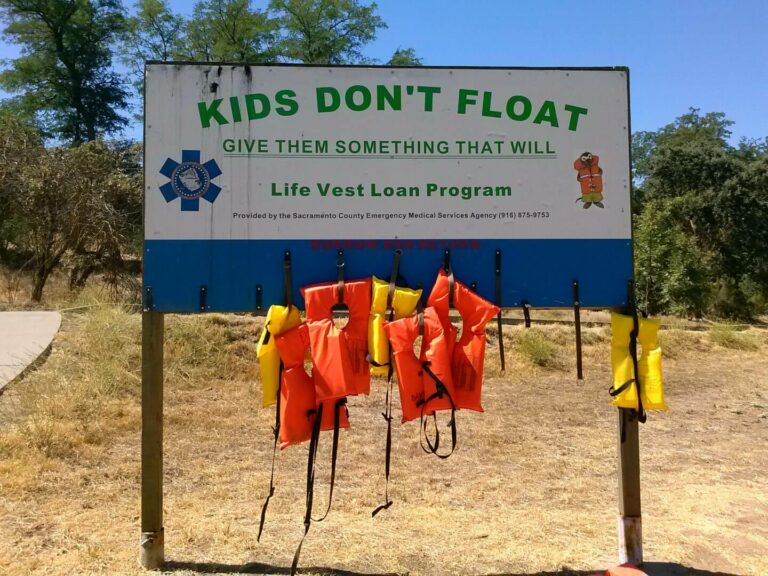 A Sturdy Raft , Kayak, and also paddles:
Buy a sturdy raft, or rent one from one of the rental locations along the river. The river is shallow in parts and cheap rafts from your local big box store often tear and can pop, leaving you stranded. We suggest using one of the raft rental companies below. Not only will they provide you a raft, paddles, and personal flotation devices, but they also offer shuttle services that take you from the end on the river back to your vehicle at the end of the day. This is super convenient and can help save you from running a "shuttle", one of the most laborious task in a day of rafting. Raft rental fees range from $80-$213 dollars depending on the size on the raft. Shuttle services provided by the rental companies are roughly $5 per person.
A day on the river can become not so fun if you don't bring enough to food and drinks to keep you well hydrated and fueled. Be sure to bring more then enough snacks and water on your trip to keep everyone in your party happy and healthy. Remember NO GLASS is allowed on the American River Parkway and there are often rangers checking to ensure these rules are followed.
While alcohol is a popular addition to many river trips, it also vastly increases the risk of injury or death. Please do not use alcohol while floating! If you do choose to imbibe take notice the alcohol is banned from the parkway permanently in the following locations:
The bluffs near the Fair Oaks Bridge
Certain locations within Discovery Park
During Memorial Day weekend, the 4th of July, and Labor Day weekend, alcohol is temporarily banned along the shoreline and on the American River between Hazel and Watt Avenues (the floating section of the river). For more information see the American River Parkway's site on alcohol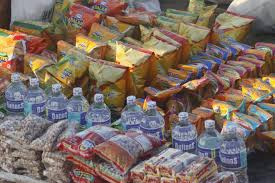 What you wear while floating can make or break your day. The sun's rays are powerful during the Sacramento summer and the reflection of the sun off the water can increase your exposure. Wearing the proper clothing and protection helps ensure that you stay protected and are able to enjoy your time floating without experiencing a damaging sunburn as well as the fatigue that comes along with excessive exposure to the sun!
Swimsuit, shorts and shirt to wear you're not afraid to get wet.
Sturdy shoes or sandals (no flip flops!)
Sunglasses with neck strap.
Sunscreen with SPF of 30 or more (reapply every 90 minutes)
Lip ointment/Chapstick with SPF of 30 or more. (reapply every 90 minutes)
Waterproof camera (Optional)
Baseball cap, visor or hat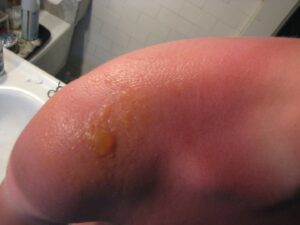 Bring a sturdy waterproof container for keys, phones, wallets, or other valuable items! A drybag, or ideally drybox is great insurance. Not having your keys and having to wait for a locksmith is not the ideal end to a rafting trip!
Water cannons or other items to soak nearby rafters!
An electric air pump significantly cuts down on time and effort to inflate rafts. Be sure to bring multiple pumps for larger parties as no one wants to wait around for one pump while inflating a floatilla of raft.
Leaving someone (the sacrifice!) behind with your gear and utilizing Lyft, Uber, a friend or ride share service to leave your vehicles at the take out point means there will be no need for a shuttle at the end of the day!
Stay away from hazards to navigation in the river such as bridges, pylons, trees, and anything else in the water. These items can pop or wrap your raft leaving your in the water without a way to continue your trip.
Crime can be a problem at both put-ins and take-outs. Be sure to lock your vehicles and take any belongings with you!
Floating the American River in Sacramento can be a great relaxing trip if the logistics are taken care of in advance through careful planning. If you would like someone else to handle all the details and ensure your have a great time on the water please contact us for one of our guided whitewater adventures. Not only will you not have to worry about all the easy to miss details, but the rapids we tackle on our guided trips are larger and more fun. Remember our best rafting adventures are just 35 minutes from the Sunrise Boulevard put-in in Sacramento, which is probably less time, and much less stress, then it will take you to ready a do it yourself adventure! Let us provide you with the safety equipment, shuttle, professional guides, amazing food, and experience you'll need for an amazing whitewater adventure.
Visit us at raftwet.com or contact us for more information about being safe while floating or to schedule your whitewater adventure with us today.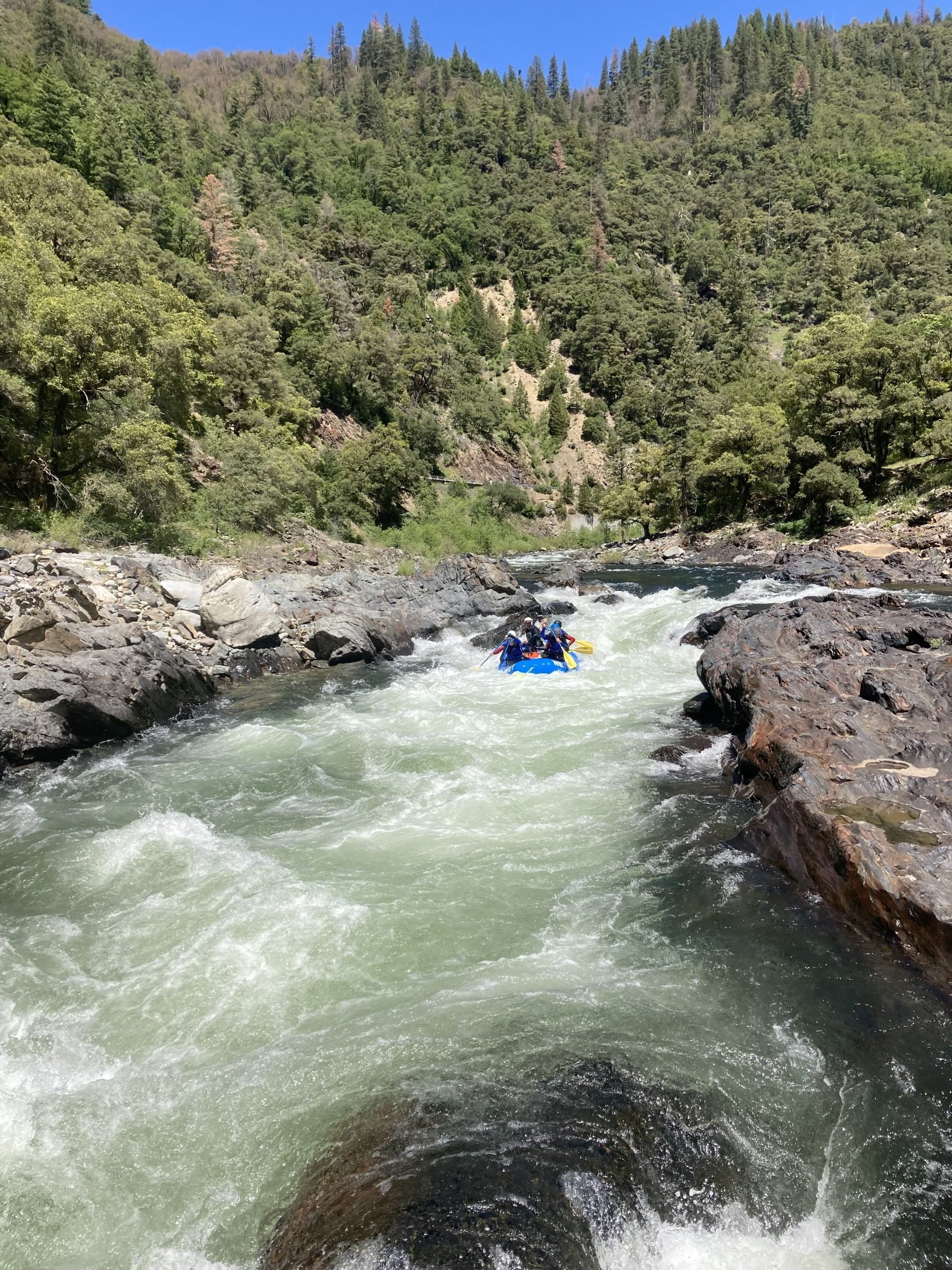 North Yuba River Lunch Included! The North Fork Yuba River
Read More »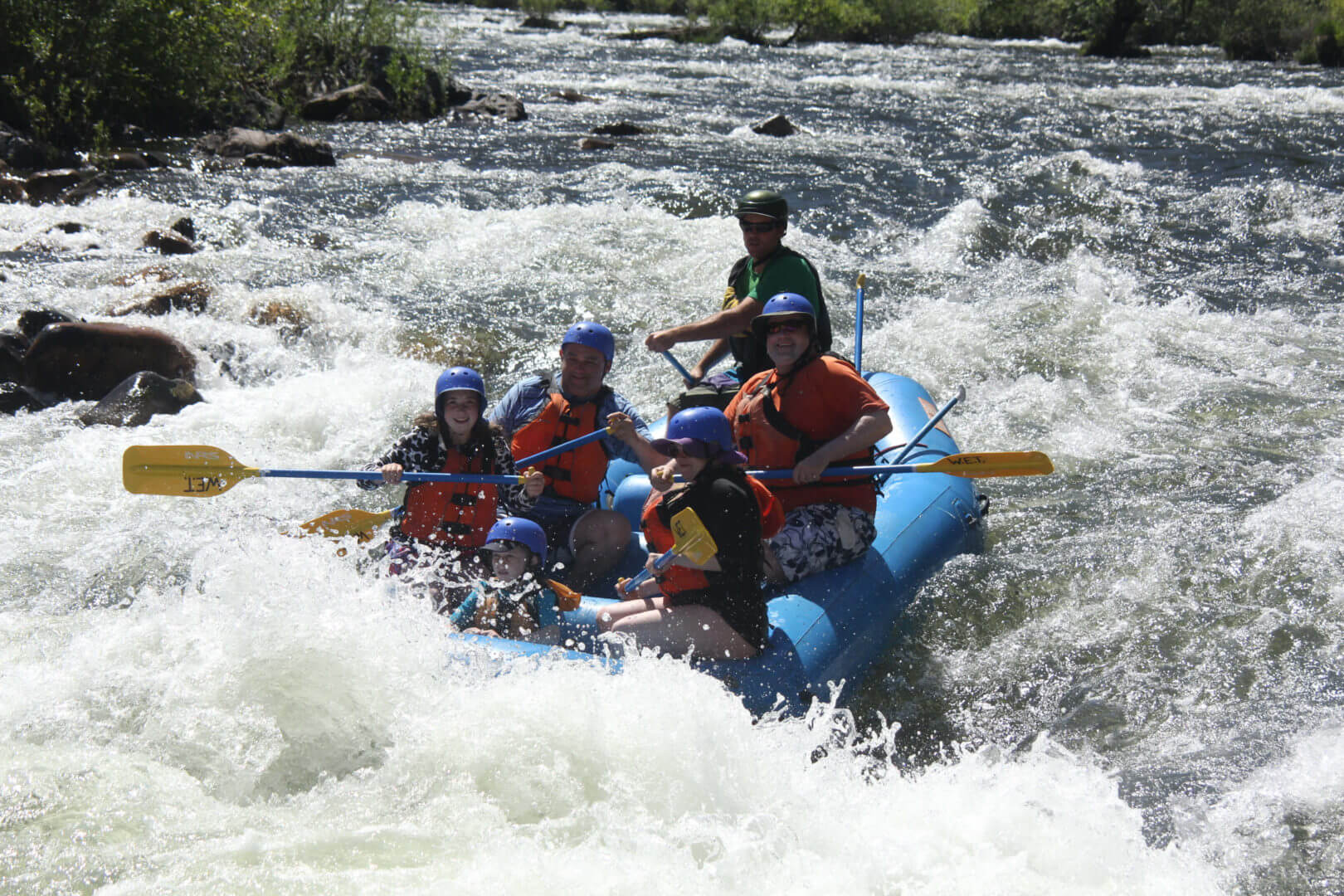 South Fork Full River Lunch Included! The perfect trip for
Read More »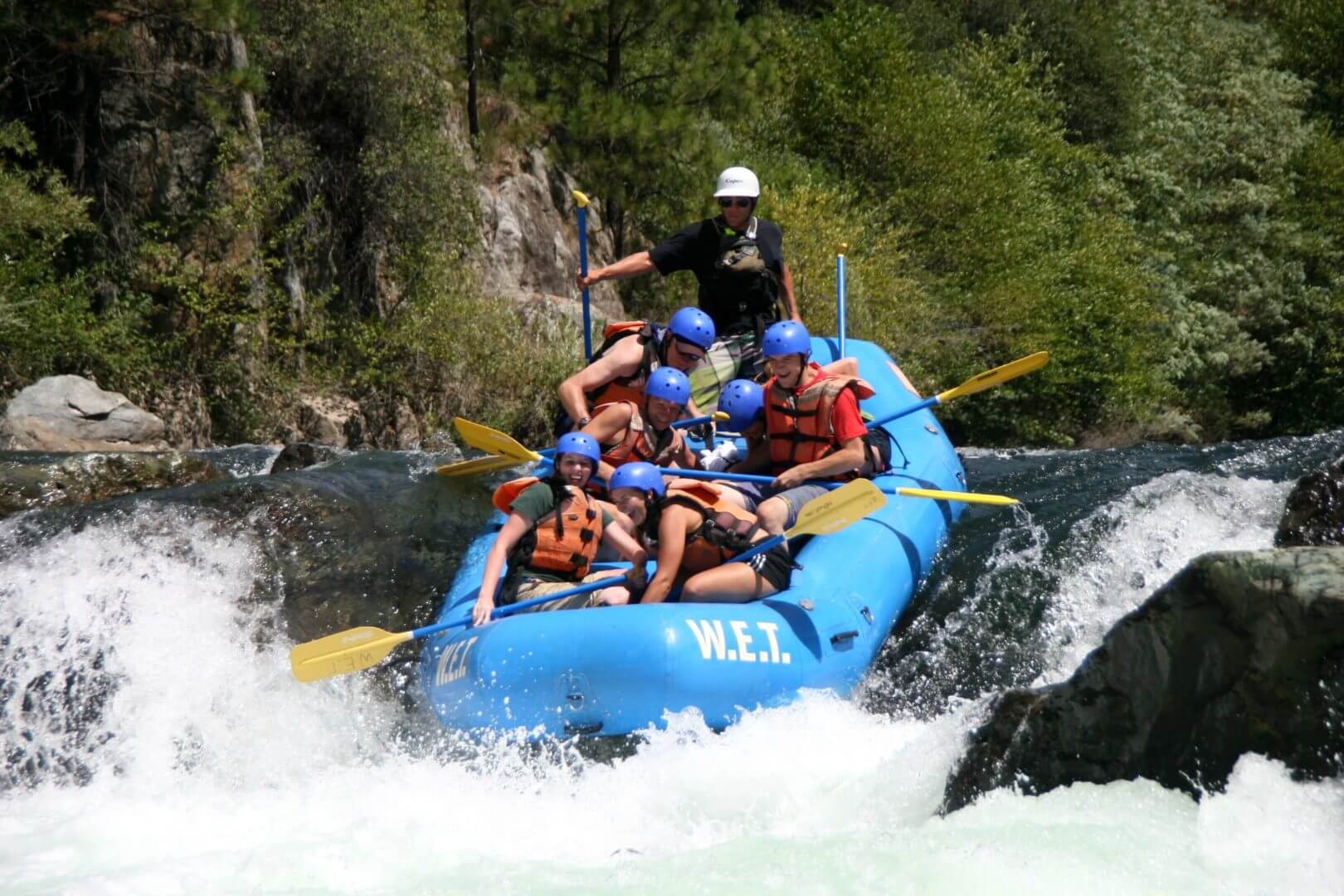 Middle Fork Lunch Included! The Middle Fork of the American
Read More »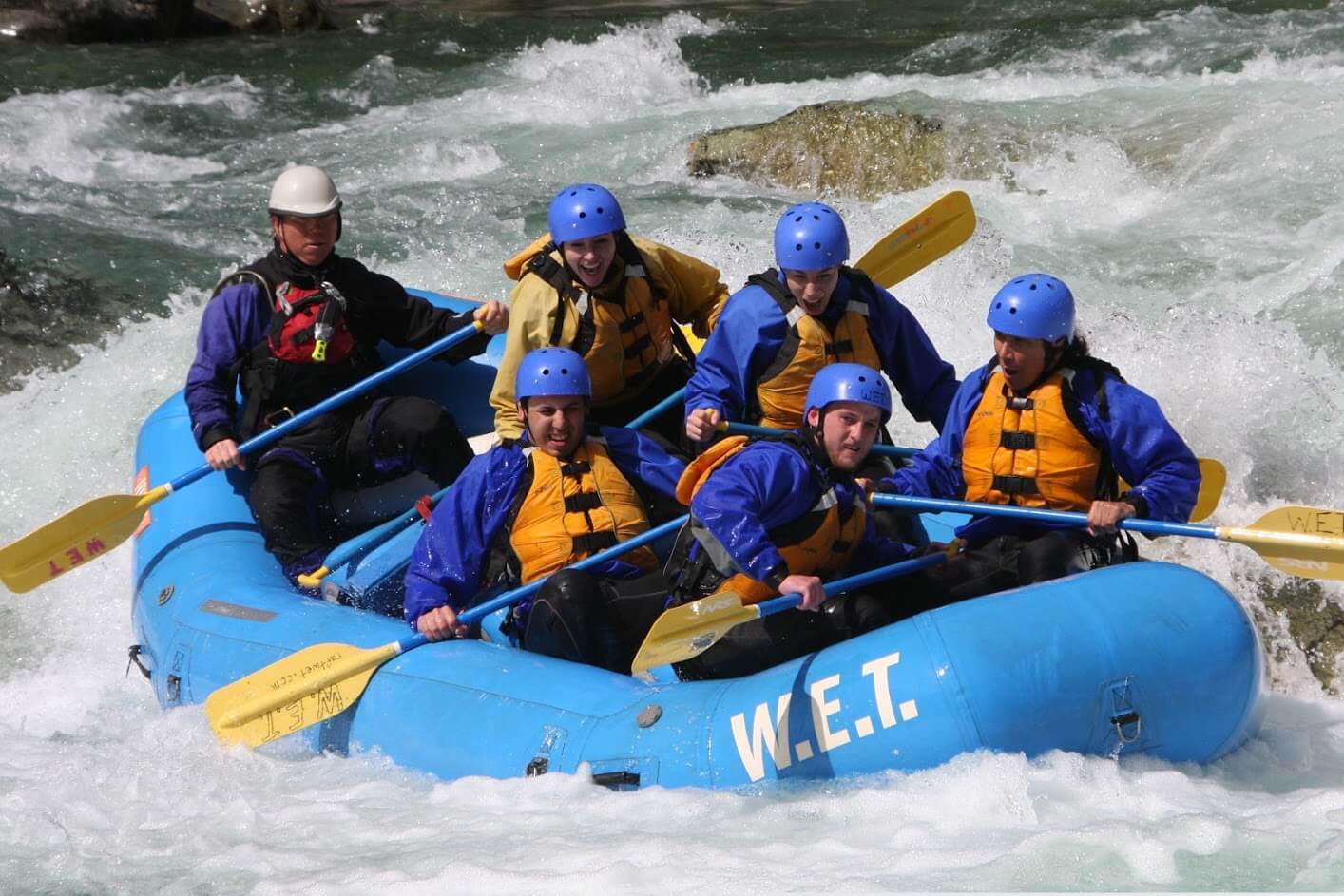 The North Fork of the American River offers non-stop whitewater action fun, set in a stunning granite canyon. This Class IV/V river is ideal for the thrill-seeking, experienced rafter or athletic beginner. This river offers (almost!) non-stop action for 9 miles as it cuts through a gorgeous narrow granite canyon with back-to-back big rapids.
Read More »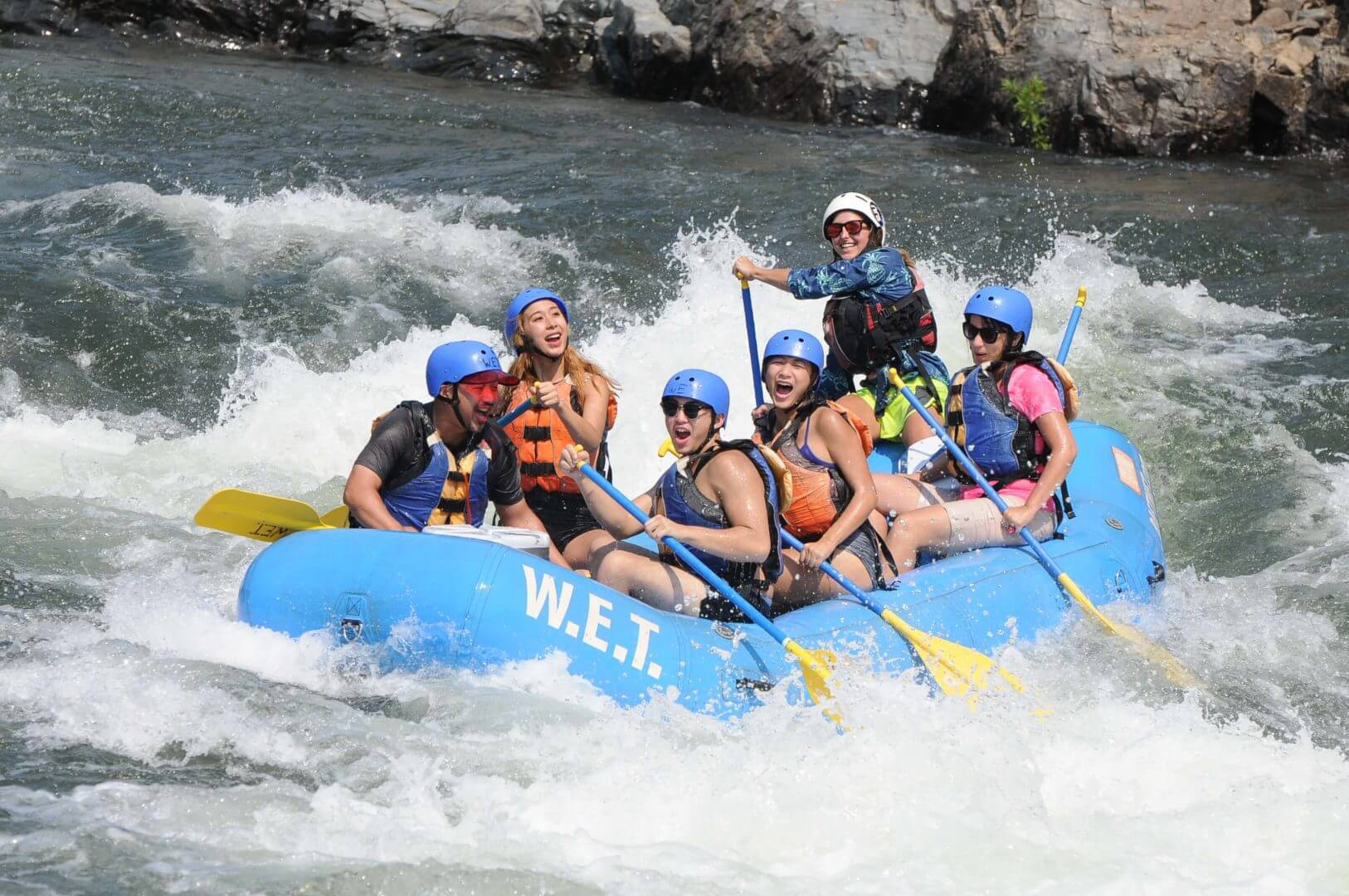 Float along the South Fork's Class 2 section and take in scenic views of  golden rolling foothills, before the canyon narrows into a granite gorge where you will plunge through thrilling Class 3 rapids like Satan's Cesspool, Bouncing Rock and Hospital Bar, to name a few. A customer favorite, this trip is perfect for any size and type of group.
Read More »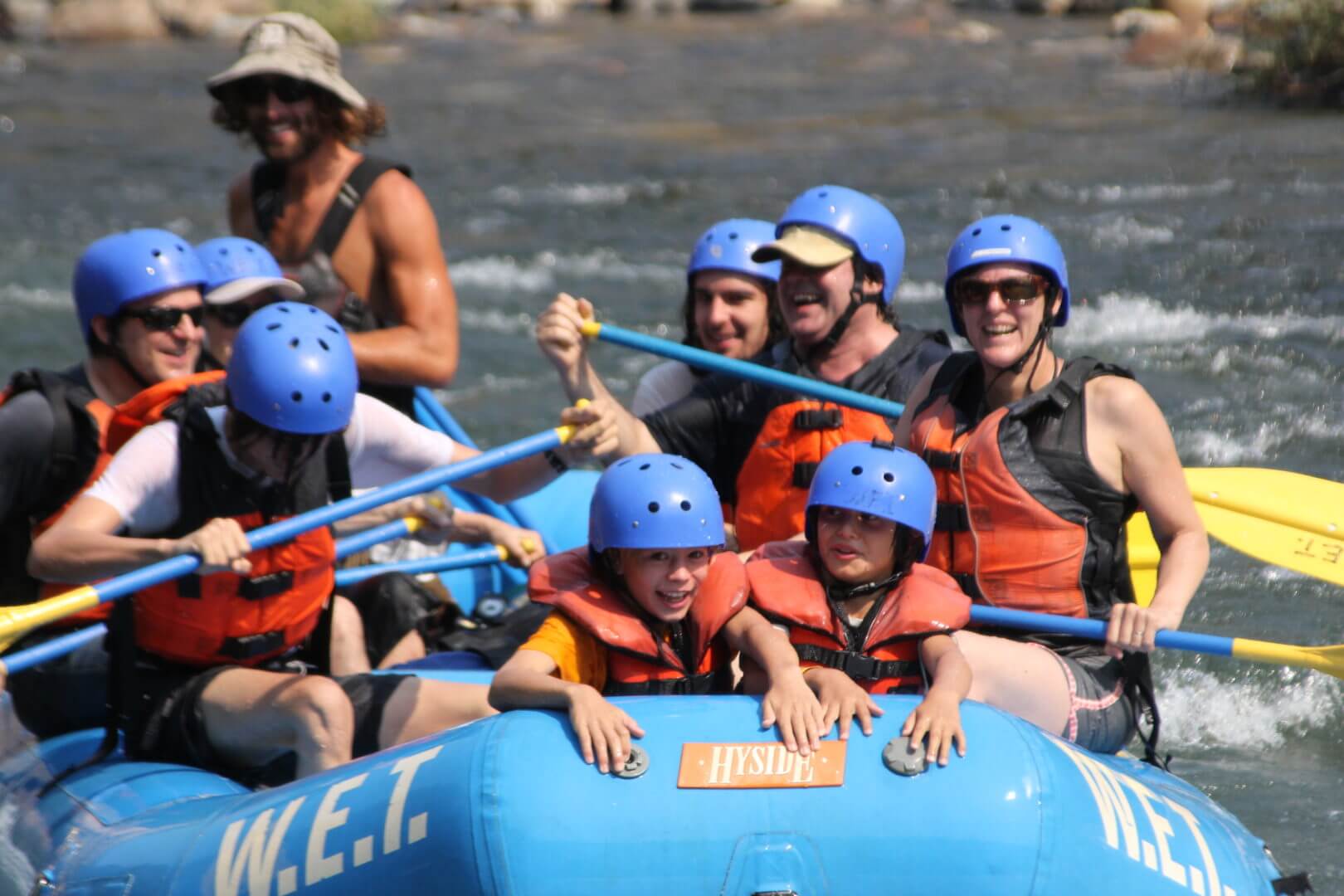 Our most popular day trip boasts rapids right from the start. Surf a hole at ChilI Bar Hole and enjoy favorite rapids, including Meatgrinder, Triple Threat and Trouble Maker, the river's most challenging and exciting rapid. These rapids are followed by a relaxing float through Marshall Gold Discovery State Park in Coloma.
Read More »